Umbro & John Smedley
Misc - 26/07/2012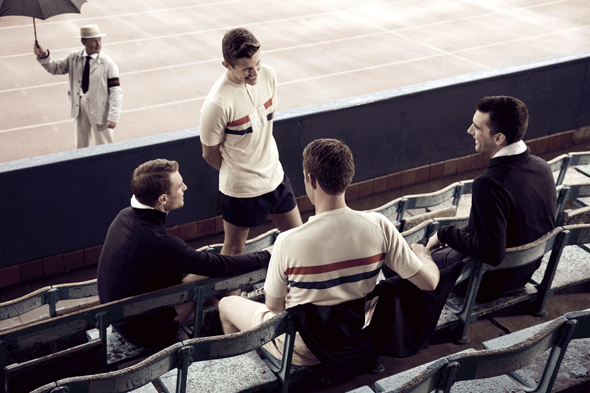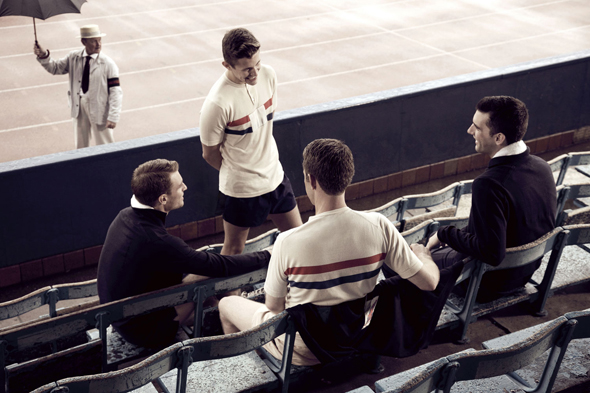 Over their 88 year history Umbro have crafted clothing for a number of different sports, including a stint at the forefront of British athletics. A recent raid of their archives unearthed a fantastic vintage Umbro running vest and track sweater worn by British athletes in 1948. These pieces have been used as inspiration for an incredible collaboration with Matlock-based knitwear experts John Smedley.
The running vest and track sweater have been reimagined by Umbro & John Smedley, creating two smart, super-stylish pieces of clothing for a sporting summer wardrobe. The Field Sweater and the Tangeru Shirt take inspiration from the sporting world and current fashion trends, allowing patriotic support in a smart, stylish way.
The Tangeru Shirt has a three-button round collar. The short sleeve tee uses a 30 gauge John Smedley Sea Island cotton that's wonderfully soft and comfortable to wear. With patriotic red, white and blue stripes proudly displayed across the chest, the shirt also features a blank white fabric patch in the centre of the chest, a reference to the team patch displayed on the original design.
Alongside The Tangeru Shirt, the Field Sweater uses an original track warm up top as inspiration. A modern interpretation that combines a distinct retro feel with a subtle contemporary touch. The sweater is crafted from a 24 gauge John Smedley Sea Island Cotton, in dark navy blue and features concealed internal cut and sew pockets with a dark navy stitch on the exterior. It also factors a double linked rib collar, mid zip detail and ribbed cuffs and hem.
This special collaboration is available from July 27th, at the start of The London 2012 Olympics. They are available at a number of select retailers and online at Umbro.com
Click Here to view the beautifully shot collection images, one of which features our London Map Umbrella.