London Undercover x Adsum
Umbrellas - 06/12/2020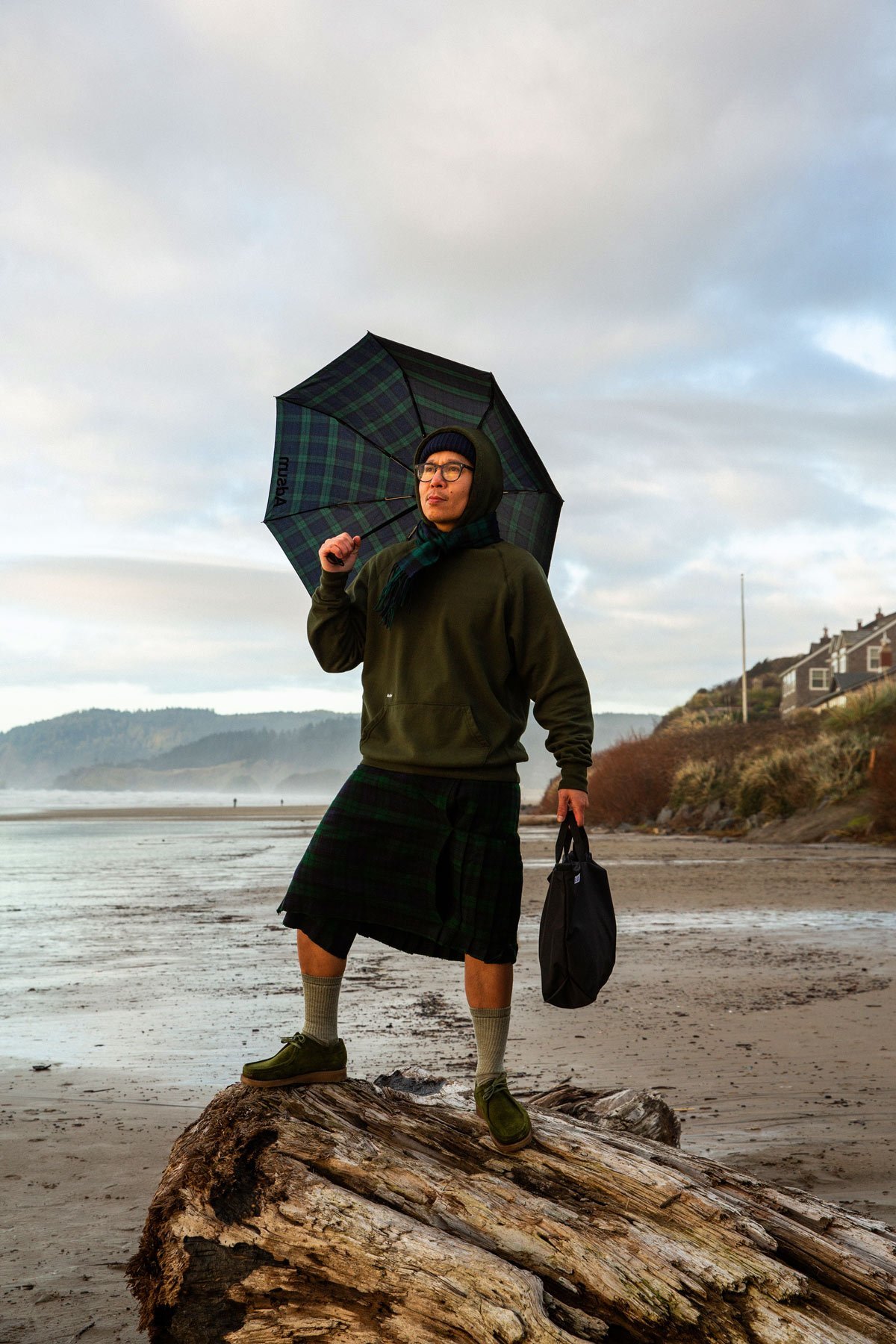 By the early 18th Century, the King of England, George I, possessed an empire that stretched from Asia to Africa to the Americas. His military and political might were among the most powerful in the world. And yet in 1725, he found himself conceding to his top generals that the regular British army was simply incapable of controlling the wilds of the Scottish Highlands.
The landscape of the Highlands was too rugged, the weather too punishing, and its people too independent and uncompromising for the regular British army to keep any semblance of control. After multiple large rebellions in 1715 and 1719, King George I instructed his generals to raise an independent unit of local Highland Scots, to keep the peace and maintain order amongst their own communities. The resulting unit, made up of four clans comprising six companies, became formally known as the Independent Highland Companies, and informally known as the Black Watch.
Their original uniform was made up of a 12-yard length of wool tartan, long enough to be used as full body protection from the harsh Highland weather. The specific green and navy color and pattern of the Black Watch's tartan is believed to be drawn from that worn by the Campbell clan, whose members made up about half of the unit. As the Black Watch was folded into the regular British Army and then deployed to wars throughout the world, the tartan kilt remained a part of their uniform for over 200 years, until 1940, when they transitioned to wearing the kilt only for formal or ceremonial appearances.
While the Black Watch still represents Scotland as a fighting force today, their legacy and influence extends far beyond the realm of the military or the British Isles. The unit's historical endurance helped drive the general popularity of tartans. Not all tartans represent the Black Watch, but all tartans do have a connection with a truly ancient lineage from a wild and unconquerable place, and the Black Watch tartan represents the enduring protection of both the place and the lineage.
It's this represenation of Black Watch that has been a big part of the London Undercover brand for many years and in this instance we collaborate with New York based Adsum as part of a Black Watch capsule collection celebrating this infamous tartan. 
The London Undercover x Adsum Auto-Compact is our standard compact umbrella, made for those on the move. It is a small and light weight umbrella for convenient use in every day rain. The handy button-opening mechanism allows you to open and close the umbrella with one hand. A special Black 3M Reflective print sees the Adsum brand name highlighted on this collaboration. 
Available to purchase Online now.